Rotary Tablet Press
KOMPRESSOR 100
CONCEPTION
The KOMPRESSOR 100 is a strongly-built tablet press prepared for the development of new products and the production of small batches. It is perfect for the production of products with high added-value.
Its technical features are similar to those of high-production equipment, which offers a greater safety in the scale up. It is prepared for working with EU o TSM dies in accordance with the client's requirements.

It can be used in small environments, due to its stainless "single- block" structure. The concept "free of tooling" enables the operator to dismantle this machine in a quick and practical way, what eases his work.
Its stainless-steel enclosure and their upper polycarbonate doors of great thickness with seals reduce noises to levels even lower than the allowed ones.
Safety complies with CE, by means of interconnected doors. Its building concept complies with GMP guidelines. It has surfaces treated with hard chromium and/or stainless steel. The possibility of removing the punch-carrying turret head eases a quick format change and equipment cleaning.
The servo-motorising of all the systems (compression, pre- compression and weight adjustment) makes it possible to display all the position parameters on the screen.


Features
PLC with colour touch screen.
Compact design (installation in small places)
Interchangeable turret head with removal device.
Servo-motorising in all systems.
Appropriate for the use of standard EU/TSM dies.
System of automatic weight control.
Automatic system for punch lubrication.
Individual measuring of compression forces.
Graphic display of compression forces.
Printed reports.
Remote assistance by IP.
Electrical system in compliance with ATEX regulation.
Installations in accordance with IN WALL concept.
Building in compliance with GMP guidelines.
Software designed for a practical and safe handling.
Compliance with Standard 21 CFR part 11.
FAT/ SAT- IQ / OQ- Validation Documents
AUTOMATIC LUBRICATION SYSTEM
The lubrication system allows the continuous functioning of the equipment for hours, avoiding thus its stoppage for manual lubrication processes of the upper and lower punches.
It has a hydraulic power station, with different lubrication conducts, which can be "independently" regulated, according to the product requirements.
The lubrication automatically varies in accordance with the speed of the punch-carrying turret head, which can be adjusted to 4 speed levels, editable from the equipment setup. The pre-established levels are: 0-25 rpm, 25-50 rpm, 50-75 rpm, 75-100 rpm.
SET STARS
Made of stainless steel, with optional formats.
CAM PLATE
Made of Acetal Resin.
PULL DOWN CAM
With different options of charge measures.
SERVO-MOTORING IN ALL SYSTEMS
Compression (Precision and Speed)
Pre-compression (Precision and Speed)
Dosing (Safety and Precision)
Main transmission (It allows to keep the compression force at low rpm)
COMPRESSION SYSTEM
This system is formed by a double chromeplated bar, which offers robustness to the system and ensures the straightness of the rolls at the time of compression. In this way an exact measuring of the compression force is obtained.
This system has rolls with soft bearings which do not require any maintenance. These rolls are made of fused stainless steel.
The movements of both roll-carriers are independently operated from the touch screen. These are servo-motorised, what allows quick and precise adjustments.
PRE-COMPRESSION SYSTEM
System formed by two rolls (upper and Iower)
Structure with features similar to those of the compression system.
DISCHARGE CHUTE OF THREE WAYS:
Accepted tablets
Rejected tablets
Sampling tablets
FORCED-FEEDER SYSTEM
The feeder, made of stainless steel, does not have screws, what offers easiness and safety when cleaning it.
Dismantling it turns out to be quick and simple.
The feeder has a charge spacer, which allows the proper dosing inside the die, with the subsequent advantage of reducing thus product losses.
---
INTERCHANGEABLE TURRET HEAD
The possibility of dismantling the turret head improves the times of cleaning and format changes. It offers the chance to cover all the tablet diameters with just single equipment.
It has "wipers" to avoid the contact of oil with the product and "keyways" for the use of shaped punches
DOSING SYSTEM
Dosing is servo-motorised, assembled on a rotor valve nut. It counts on a crown and worm drive adaptor box, what offers greater dosing precision and adjustment speed for the tablet weight control.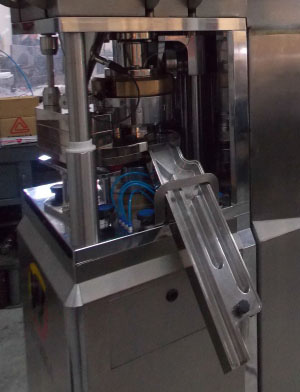 SIEMENS HARDWARE
Colour graphed touch screen; 12″
State-of-the-art electronic and electrical components
INDUSTRIAL PC
Features:
Graphic display of the upper and lower punch positioning, with the "on line" tablet thickness.
Display of the time of punch touching (Dwell time)
Instructive images and videos of equipment mounting and assembly
Instructive images and videos for equipment maintenance
Instructive images and videos for equipment cleaning
Illimited access levels (managers, supervisors and operators)
Hardware appropriate for compliance with Standard 21 CFR part 11
Double hard disk (information backup)
Remote technical assistance
---
TECHNICAL FEATURES
| | Units | B | BB | D | B/D |
| --- | --- | --- | --- | --- | --- |
| Number of Stations | – | 12 | 14 | 10 | 4/4 |
| Max. pre-compression Force | Kn. | 40 | 40 | 40 | 40 |
| Max. compression Force | Kn. | 60 | 60 | 60 | 60 |
| Max. Tablet Diameter | mm. | 16 | 13 | 25 | 16/25 |
| Max. die plate rpm | rpm. | 100 | 100 | 90 | 90 |
| Max. Production | Tablets/Hour | 72.000 | 84.000 | 54.000 | 21.600 |
| Dimensions | mm. | 550 x 750 x 1800 | 550 x 750 x 1800 | 550 x 750 x 1800 | 550 x 750 x 1800 |
| Approximate Weight | kg. | 580 | 580 | 580 | 580 |
---
Data Sheet Download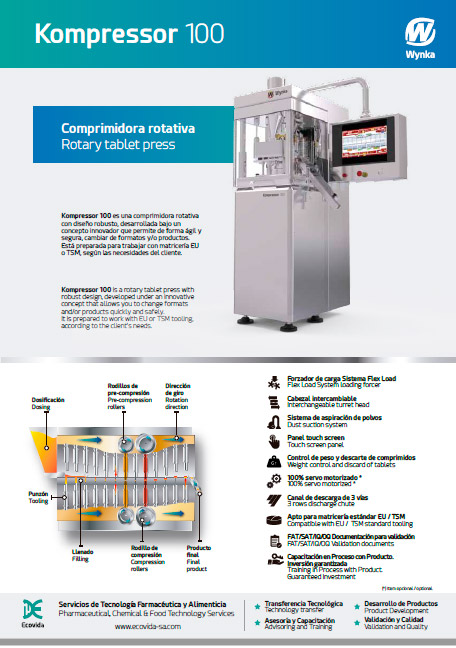 Contact us for this product
Enter your query in the form below and soon one of our representatives will contact you.